About Tania Begg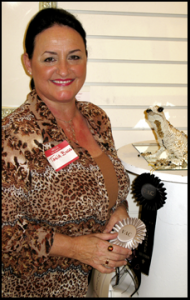 1997 saw the return to South Florida of Tania Begg after years of cruising the Caribbean with her family on their 30' Sailboat Brittany.
Tania's artistic sense absorbed the culture and color of our Caribbean neighbors, and upon returning to Florida unleashed "Lizzart", beaded wire sculptures that combined her love of three-dimensional art with texture and festive colors.
Tania's imagination has spread from jewelry pieces of only a few inches, to larger table top pieces and Wall hugging sculptures of over four feet in length. Tania's vision takes an assortment of colored beads and wire and transforms them into unique three dimensional sculptures; colorful, sometimes humorous, but always-adorable.
Over the past few years, as her art has become recognized, Tania work can be seen at the Hirdie Girdie Art Gallery in Sanibel, Sea Grape Art Gallery in Punta Gorda, and Arts For Act in Fort Myers. Along with this growth, her sculptures have become more refined, and her three woman show at Gallery Joe Mathis in Punta Gorda, included new works incorporating bone-beadwork. You may now find her work as well at the new Koi & Krane Art Gallery in Ft. Myers.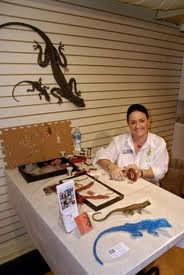 Tania's newest creations, "Whimsy Cat", and "Whimsy Fish" her odyssey into interspecies art have also been well accepted, with Whimsy Cat being chosen as one of Bead And Button Magazines top 100 international finalists in their annual "Bead Dreams" 2006 competition. Whimsy Cat was featured in the October 2006 magazine and also on their website. All the while, Whimsy Fish has won awards in Bonita Beach, Punta Gorda and Cape Coral Art shows.
Where Tania goes next we'll see; for now she is creating unique sculptures with a touch of class accenting the Florida lifestyle, each a small piece of her and her vision.
Tania is affiliated with the following associations:
• Visual Arts Center, Punta Gorda, Florida
• Cape Coral Art League, Cape Coral, Florida
• South West Florida Craft Guild