Harry the Grouper Stolen!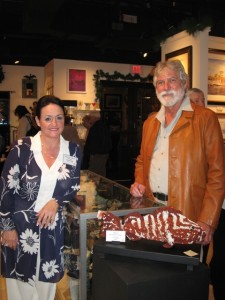 THIEF TARGETS VALUABLE ARTWORK FROM PUNTA GORDA ART GALLERY
A unique sculpture was stolen/found missing from the Sea Grape Gallery on Wednesday, March 22nd,
The valuable piece is valued at $5800.00 but as it's creator, Tania Begg describes, "The piece is worth much more than the price tag suggests." The One-of-a-Kind Beaded Sculpture was stolen from it's pedestal in a window display of a local 23 member co-operative gallery. The Sea Grape Gallery is located at 113 W. Marion Ave in Punta Gorda, FL.

"The Sculpture "Harry the Nassau Grouper" was last seen sometime Tuesday Evening or Wednesday Morning", Tania said. "Authorities are investigating, and I'm hopeful that the sculpture will be returned."
The beaded creation is formed almost entirely out of red jasper and natural stone beads, including black onyx, marble and river stone. It took Tania over 300 hours — over a nine month time frame to bring the sculpture to life.
Tania has presented the beaded grouper sculpture on the gallery circuit for years. Last year it was accepted into the prestigious Art Encounter Exhibit at the von Liebig Art Center in Naples. "Harry" as the sculpture has been named, had won both awards and praise from art lovers and aficionados who have regularly singled out the Cape Coral woman's unique creations. "I have loved art all of my life, I've really been doing it all my life," Tania said.
Tania had planned to retire "Harry the Nassau Grouper" from display in the coming years where only she and her husband could enjoy it daily.
Hopefully that day is still coming, she said.
Harry the Nassau Grouper is about 3.5 lbs, 26" long, 9" tall, and 8" wide.
To see a full photo gallery of harry the grouper you can visit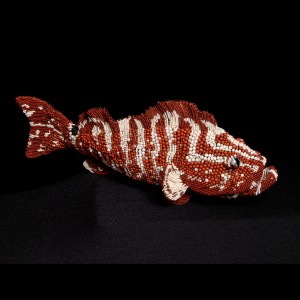 Tania's website at
http://taniabegg.com/harry
If you have any information on the where a-bouts of " Harry the Nassau Grouper" please contact the Punta Gorda Police Department and reference Case # 11-1003
If Harry is returned to the gallery unharmed no charges will be filed.